2017 Annual AVAP Conference
Racing Toward Success
July 19-21*, 2017
Sheraton Indianapolis City Center Hotel
31 West Ohio Street
Indianapolis, Indiana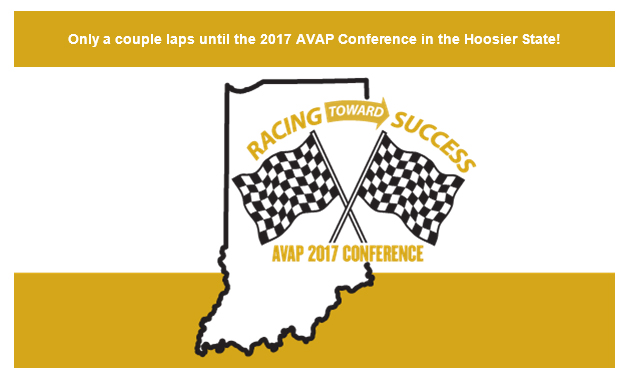 Conference Materials:
Hotel Information:
If you would like to book a room at the conference hotel in our special room block, click here.  You will need to use this code 2017AVAP in order to book rooms in this block.  Please note, as our conference is part of the AVMA room block, after you have entered the initial code, then click the AVAP Hotel Reservations box, and you will be directed to a member login page.  On this page, under the login box, click on the sentence, "If you are not a member, please click here to continue."  This will take you directly to our AVAP room block rate of $199 at the Sheraton.
*Note: The AVAP Conference precedes the AVMA Convention this year.
For more information visit the 2017 AVMA Convention website.