The AVMA released the results of their workforce study On April 23, 2013.  The Association of American Veterinary Medical Colleges shared the following response with AVAP members in response to the release of the study. For more information, visit the AVMA website.
Veterinarian-Workforce-Final-Report
AVMA Workforce Press Release 4-22
AVMA Workforce Study Primary 4-22
Our new AVAP directory is now available online and includes searching and sort capabilities!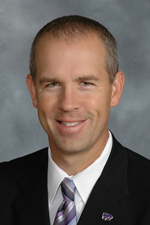 AVAP Morns the Loss of Colleague and Friend, KSUCVM Development Director Chris Gruber.
For more information,www.wibw.com/home/headlines/Plane-Crashes-Into-House-201870051.html. Chris has been a member of AVAP for over 8 years. He leaves behind a wife, Kai, and three children: a 9-year-old son, Ethan, and a set of twins, Aiden and Abigail, who will be turning 7 on April 13. Chris had just turned 40 in December. His K-State and veterinary family is pulling together to try to help Chris's family and a memorial fund has been established. Chris will be missed by all those in our very tight-knit community. www.found.k-state.edu/memorials/gruber