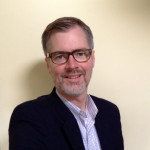 Jonathan Burton, AVAP President 2014-2015
Veterinary Advancement Colleagues,
 (Using the very most inclusive definition of "advancement", however your role is defined to advance the mission of your institution.)
It is a privilege and a pleasure to begin my volunteer role of AVAP President following our 2014 AVAP conference meeting held in beautiful Fort Collins, Colorado.  (Pam Jones and team, you hit a home run!)  Thank you to each of you for affording the opportunity to serve this organization and its affiliates.
I hope each of you who network through this association and attend AVAP meetings always take something valuable away to potentially apply at your "shop".  During our recent meeting, I certainly gleaned a number of innovative ideas to consider adapting in my work for the year ahead, and beyond.  While programmatic goals can be measured and quantified, what I think is a bit less easy to apply a metric to is simply the positive, reenergizing feeling of meeting and conversing with colleagues from other veterinary colleges that share an understanding or our successes, our failures, our challenges and our lofty aspirations.  We are a unique "family" and I hope you share that familial bond with each other too.
Though I've never really thought of myself as a "joiner", I step up to help because I feel a genuine sense of respect and admiration for my peers at other veterinary colleges and I get a spark of enthusiasm from learning how they are tackling similar issues shared amidst our work.  I admit this hoping that if you should find yourself on the sidelines of jumping in to be involved with steering this organization, that perhaps you will come to the same conclusion that I did; that is can be enriching use of your time.  And, I love that this network remains fluid enough to respond to innovative input from new blood.  So bring it on!
I hope to see many familiar faces and many new ones when we convene in Boston in 2015.  But long before then, please consider the AVAP officers to be contacts you can reach out to at any time.
Cheers!
Jonathan
[email protected]
(508) 887-4795
P.S. How about one more round of applause for past president, Kelley Marchbanks, and for all of those listed on the gavel/plaque dating back to 1988.  Hats off!