2017 Annual AVAP Conference
Racing Toward Success
July 19-21*, 2017
Sheraton Indianapolis City Center Hotel
31 West Ohio Street
Indianapolis, Indiana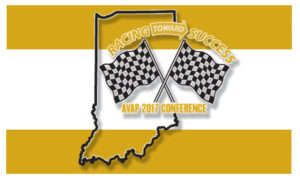 Survey results are in! Thank you for sharing your thoughts and suggestions.
Conference Sessions – Powerpoints and PDFs:
University of Florida's "Challenge Accepted" video (courtesy of Sarah Carey, 352-294-4242 , [email protected])
4 Pillars of Donor Communicationsa – Lynne Wester @donorguru
Telling the Untold Story of Unrestricted Impact – Lynne Wester
Surprise and Delight – Lynne Wester
How You Can Improve Philanthropy & Improve the World – Bill Stanczykiewicz
Building the Donor Pipeline: Donor Relations from the Ground Up – Leslie Carmona
Involving Students in the Work of Stewardship, Alumni Engagement, and Crowdfunding – Courtney Downey
Customer Service Not Cultivation PP and Toolkit – Marchbanks, Barr, and Campf
Other conference documents

*Note: The AVAP Conference precedes the AVMA Convention this year.
For more information visit the 2017 AVMA Convention website.